Here's a hypothetical situation: you spend a semester researching an extremely specific topic and organize 60+ resources for the skeleton of your final paper, omitting only a small chunk of quantitative analysis.  You purchase a package claiming to offer "affordable Twitter analytics" the week the paper is due, because the data is bound to fall in line with a semester's worth of qualitative research.
Just a few short paragraphs and you – a part-time graduate student with a full-time day job* – can return to some semblance of a regularly scheduled program.
While the perils of procrastination have been drilled into your head since the second grade, you'll eventually find a gaping hole in the data, leaving you with no choice but to recalibrate your proposal the night before its due.  As you can probably gather from the snarky tone permissible only in the blogosphere, this isn't exactly a hypothetical situation.
But let's back up a bit…
In an attempt to replace traditional ratings with a new benchmark for success, there has been a surge of media research exploring how audiences engage with television on social platforms.
In 2013, Nielsen started complimenting their traditional ratings with insights gathered from Twitter data, spearheading research to tout products available through Nielsen Social.  Yet these insights focus mainly on the B2B value that can be derived from social TV analytics.
Because they're ultimately selling a service, research groups at Nielsen, Comscore, etc haven't thoroughly explored what motivates viewers to participate in second screen activity.
Nielsen's initial mission statement explains how social media has transformed television into a "stadium experience," even for viewers who find themselves watching at home.  And because they haven't quite done away with the traditional rating system, networks are still grappling with ways to monitor and quantify the viewing habits of millennial cord-cutters.
While comScore reports that 46% of viewers ages 18-34 will watch original series whenever they damn well please, appointment viewing is not dead.
If you Live-Tweet, They Will Come.
Even against the backdrop of increased on- demand viewing, shows like "The Walking Dead" and "Empire" illustrate the continued ability of traditional scheduled television to create true urgent cultural events, moments of community and shared simultaneous viewing that just can't be replicated on other platforms.

– Josh Sapin, The Wall Street Journal
For certain shows, online discussions motivate viewers to break the habit of watching their favorite series in a time-shifted manner.   Core fans keep themselves engaged 24/7; whether they're tweeting conspiracy theories or sharing memes on Tumblr, they're building anticipation throughout the week.   
Fans with a certain degree of "FOMO" – or "Fear of Missing Out" – will secure their spot in front of the TV in order to participate.
During a panel sponsored by the National Cable Telecommunications Association, Grantland writer Chris Ryan explained how this "crippling social syndrome" perfectly encapsulates our relationship with television in the age of the Internet, where the stakes are "too high to miss out."
Fans of serial dramas are particularly prone to this kind of centralized anxiety, which is often used in the context of viewing something on the Internet that can otherwise be experienced in real time.
Using examples from various networks' Sunday night tentpoles, Ryan explains how these programs "breed a certain type of viewer," who is feels as though he or she is bound to miss out on a plot point.  Having not caught up on Game of Thrones, panelist Tess Lynch emphasized how the social aspect of live television made her ashamed to admit such shortcomings.
A cultural fascination with spoilers and the growing awareness of social media etiquette are just two factors that explain increased live tune-in rates for programs driven by social audiences.  But what non-traditional assessments can we make by from real-time Twitter activity?
Moments that symbolize today's television zeitgeist, such as Game of Thrones' "Red Wedding," indicate that audiences are extremely vocal during violent events, but are they particularly distraught over a character's demise?  Or are they primarily reacting to the bloody visuals? Are viewers more likely to cheer for strong female characters, or are they quick to attack their more salacious male counterparts?
In an ongoing assignment for Robert Berkman's** Online Market Research class, I set out to determine which factors motivated viewers to participate in a live-tweet.  I planned to combine existing academic research with data compiled during the season finales of various TV dramas, pinpointing characters, events and visual cues that generated high volumes of Twitter activity.
And then I took a look at the data…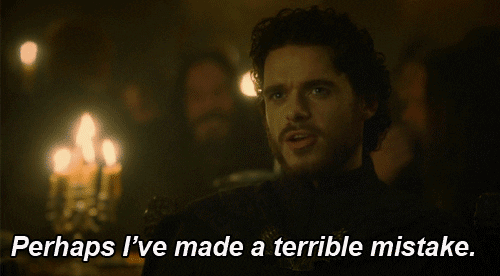 *As far as academic research goes, I am a total outsider.  I don't work on anything remotely close to Game of Thrones, and this research project / subsequent commentary is completely independent from the aforementioned day job.  
**I already received a grade for this class, so this book plug is not a shameless attempt to overcompensate for the fact that I handed in my final project four days late.  Berkman's Find It Fast: Extracting Expert Information from Social Networks, Big Data, Tweets, and More will be available come fall.